DISTRAP Connector Specification
From DistRap wiki
This is a draft, DO NOT BASE ANY DESIGNS ON ANYTHING YOU SEE HERE YET!
DISTRAP Connector Specification v0.7.1
The connectors used are standard MOLEX Micro-Fit Jr connectors. These are a smaller version (3.0mm pitch) of the Mini-Fit connectors used on ATX power supplies (4.2mm pitch).
The aim of this specification is to use common connectors in an agreed pinout to make physical compatibility between devices as straight-forward as possible while keeping costs down. All the connectors are physically the same type to keep part diversity down and allowing cost savings by ordering larger lots of the same component type. It's encouraged to share a common GND between the power rails, in the same style as on ATX.
DISTRAP Bus Connectors
The Bus Connector is the standard connector all DISTRAP devices should include.
Logic devices requiring more power than 5V, 250mA (1.25W) or different voltages should include onboard regulation from 12V or 24V of a Power and Logic connector.
The 5V pin provides power as long as the device is operational, even in standby. It's intended for powering the controllers and attached low-current sensors and status LEDs; not motors, heaters and such. The 5VDC rail could an ATX PSU's standby 5V rail (+5VSB), which doesn't provide much power considering all devices would be loaded from the same rail (usually 2.5A or 3A combined on ATX PSU's).
The 12V and 24V pins may be powered down while the device isn't active, but otherwise operational; not necessarily in standby.
For high-powered devices, like heaters, high power spindle motors and such, use one or more of the High Power connectors to deliver the required current and voltage. Only one of the connectors must connect the Logic pins, when more than one connector per device is used. **Never draw more than 5A per power pin, because the connectors aren't rated for more than that!**
The system level power limits are the practical limits of the power supply and cabling of your device.
DISTRAP Logic bus connector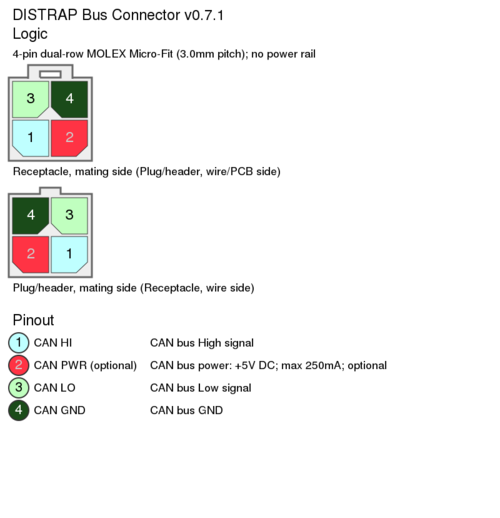 DISTRAP 24V Power and Logic bus connector (up to 120W)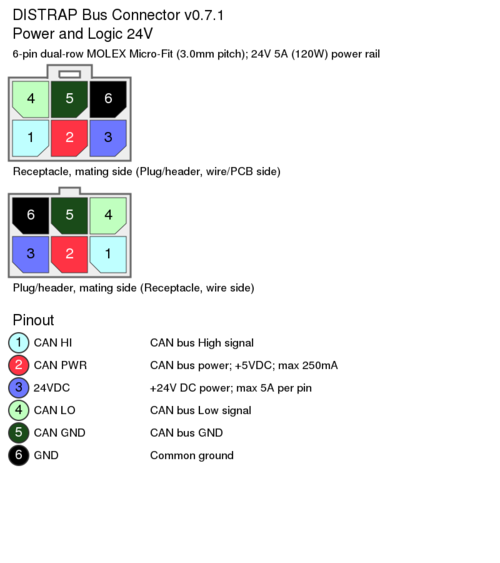 DISTRAP 12V Power and Logic bus connector (up to 120W)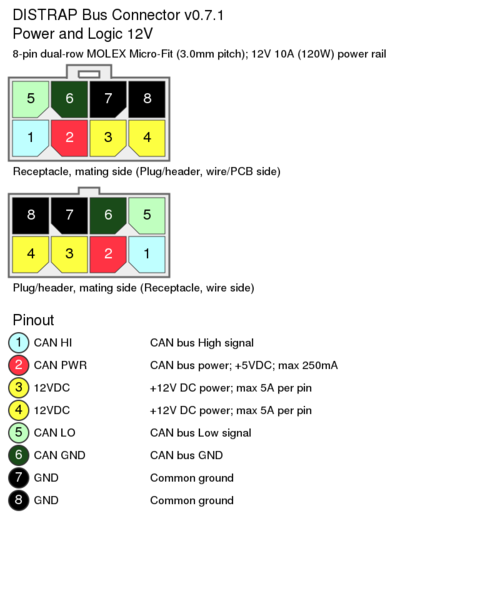 DISTRAP 24V High Power and Logic bus connector (up to 360W)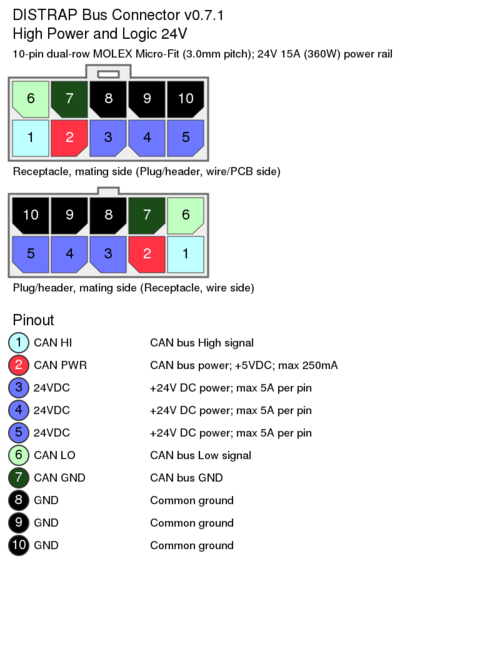 DISTRAP 12V High Power and Logic bus connector (up to 360W)